Proper dental care is very importat that's why we should teach our children to brush their teeth as fast as possible so it will become a habit for them. However it is very inportant to choose right baby toothpaste. Keep reading the article to find out what is the best baby toothpaste!

When is the right time to start brushing?
To be honest it is the best to start brushing even before first tooth erupts. It is said that parents should clean their baby's mouth even a few days of birth. How to do it? Well it should be done by using a clean damp cloth or moistened gauze pad.
When the first tooth appears you should use toothpaste for kids with fluoride.
Fluoride toothpaste
Fluoride toothpaste in fact has higher concentration of fluoride than fluoridated water has. As soon as your baby's teeth starts to show up you should start brushing them with fluoride toothpaste. However it is very important to remember that babies need very small ammount of toothpaste. It shouldn't be more than the size of a grain of rice.
Sodium lauryl sulfate
A sodium lauryl sulfate is a prevalent ingredient which can be found in toothpaste. This is a potent detergent that increases canker sore outbreaks. However you shouldn't expose your baby's delicate mouth to harsh chemicals like SLS. That is why you should avoid toothpaste that has it.
Essential oils
Essential oils are very often added to toothpastes. Thanks to this those toothpastes are promoted as all-natural. However they aren't so good when it comes to babies becuase kids are still developing their oral microbiome and those oils can inhabit this production.
Baby bottle tooth decay what is it?
This condition is also called early childhood caries. This condition is the deterioration of a young child's tooth enamel due to its prolonged or excessive exposure to sugar or sweetened liquids.
Are you wondering how to prevent early childhood caries? Well if so we have the answer. Here it goes:
do not let your baby to walk around with the bottle or drink from it throughout the day,
limit sugary snacks and drinks for your baby diet,
clean your baby's gums with a soft toothbrush,
do not dip pacifiers in any sweetened liquid,
teach your kid to start drinking from a cup as soon as it is going to be possible.
Tip: you can take your baby to pediatric dentistry and talk about baby bottle tooth decay and its possibilities.
Does babies neede special toothpaste?
Well it is the time when your baby should start brushing his/hers teeth and you are wondering if they can use a traditional toothpaste or they need special type of toothpaste. Here is the answer to those thoughs.
It in fact is prefered to use a toothpaste which was designed specifically for babies and toddlers and ada approved to be right for them. ADA also says that you should choose the fluoridated toothpaste.
Examples of baby and toddler toothpaste
Are you shopping for your first baby toothpaste, and are wondering what is the best baby toothpaste? Well if so we will list some of the examples of them just for you!
Tanner's Tasty Paste Anti-Cavity Fluoride Toothpaste
This toddler toothpaste is in fact sugar free, isn't that just wonderful? Even while it is sugar free it still maintains oral health with fluoride. This toothpaste is very unique because it is not in regular mint flavor but in vanilla and chocolate!
Tom's of Maine Toddler Training Toothpaste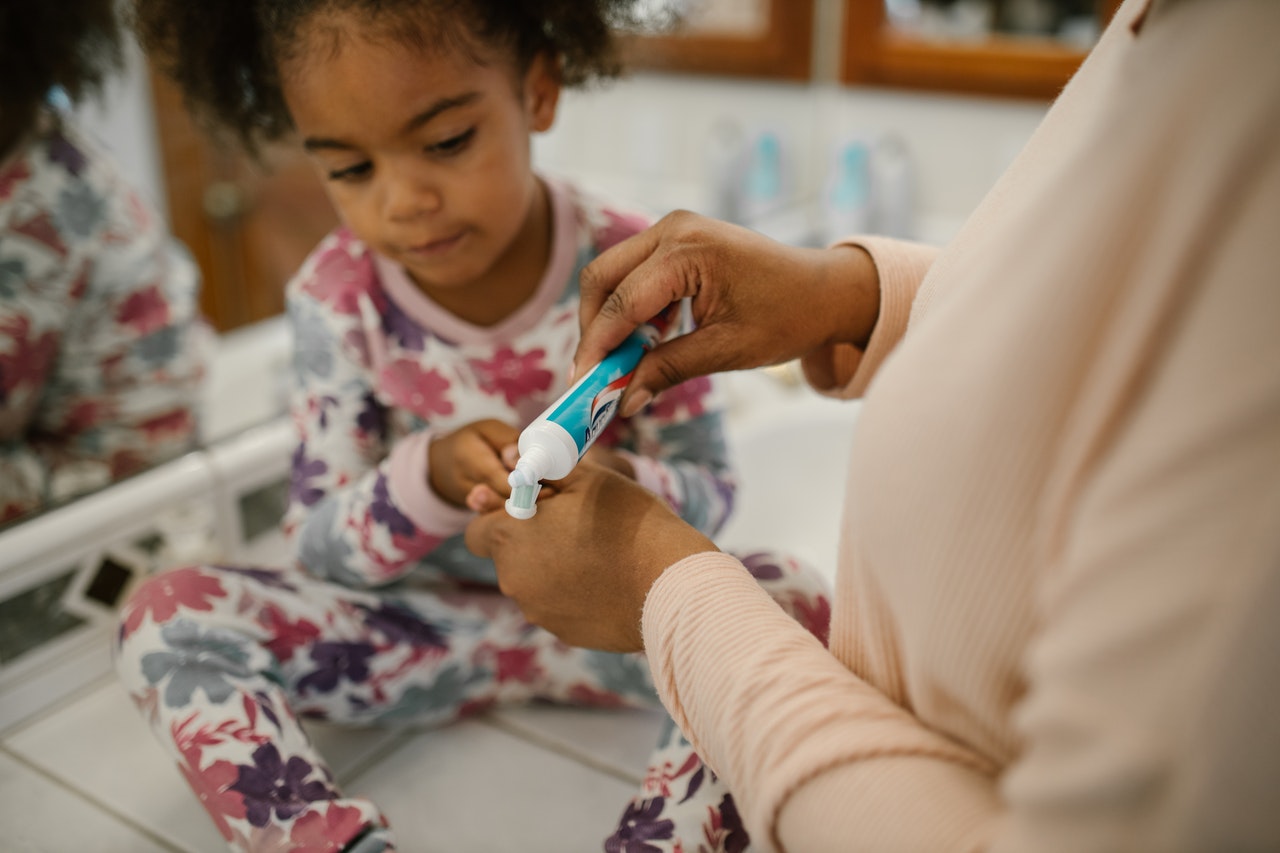 This toothpaste is fluoride free which is safe to be swallow. It has mild flavor of fruits and is free from artificial colors as well as fragrances, flavors and preservatives.
Burt's Bees Kids Toothpaste
This toothpaste is flavored naturally, sounds cool? This is a good option for those parents who thinks that less artificial means better because it doesn't have artificial flavors.
Hello Oral Care SLS-Free Fluoride Toothpaste for Kids
This kids toothpaste is vegan free and also doesn't consist sodium lauryl sulfate. It is loved by many vegan parents and their kids as the amazon reviews say! This toothpaste also comes in four pack.
Hello Oral Care Fluoride Free Kids Toothpaste
This toothpaste is fluoride free and also is safe to swallow solution (so do not worry if you baby won't spit it) that is free from harsh ingredients like SLS, parabens, gluten, dyes, and even artificial sweeteners!
Aquafresh Kids Pump Cavity Protection Fluoride Toothpaste
This toddler toothpaste is in fact fluoridated toothpaste and it is perfect toothpaste when your kid is helping you brush and then eventually brushes by themselves. This is cool trick huh?
To sum up
There are many toddler toothpastes available, so get the one which is going to match you and your child's teeth. Do you already know what are the best baby toothpastes that you are going to try out?
Facts
there are many different toothpastes flavors which for example are wild strawberry, blue raspberry or bubble mint flavor,
kids above 3 years old can have pea size amount of toothpaste,
ingredients which are found in adult toothpaste can damage the enamel on child teeth,
you may find conflicting information because some expersts are still recommending for parents not to use oothpaste with fluoride for infants and toddlers which is simply wrong.
Conclusion
It is okay if you will have to try out couple of child toothpastes because some of them like strong flavors while others doesn't. Remember that you can always visit dentist to find out more about baby toothpaste and toothbrush. It is also a good idea to get your children used to the dentist appointments and checking their teeth!