All blonde ladies listen up! Here you will find the best advices about color of your eyebrows! Having troubles with matching your eyebrow color to your hair color? We got you, keep reading the article and find out what's right for you.

What eyebrow color to complate blonde hair color?
Blonde hair doesn't go well with darker brows most of the time. Keep reading and find out what brows are the best for blondes!
All the natural blondes as well as people with light brows knows the struggle of getting perfect looking and matching eyebrows – not too dark, not too light but just looking right!
There are few products which are going to be ideal for blondes! The best idea is to use a mix of eyebrow gel and eyebrow pencil. Gel is very useful because it is essential when it comes to hard to see blonde brows. However pencil fills all the rest. There is also some kind of flexibility when it comes to your eyebrow color. It all depends of your skin tone if eyebrows could be darken or a bit lighten.
Blonde hair people should colour their brows up to only one shade darker than their hair color.
Natural looking eyebrows – blonde hair
If you are blonde and you are looking for a way of reaching the natural looking eyebrows here you will be able to find the guide on how to make it happen. Follow those steps:
get ready and prepare things like spoolie brush, slant-tip brush, eyebrow pencil, brow powder, colour correcting cover-up and also concealer brush,
now when you have all the things which will be needed to create this perfect brow color we can start making it all happen. Start with using poolie brush and work eyebrows into slightly upward direction,
now you should make a decition where should the brows begin. To make this happen use slant-tip brush hold it ertically along the side of the nose then what you gotta do is to line it to the brows and that will help you find out to figure it out where you should start filling the brows at,
now comes time to find out where the tail of brow should end. You can do that by holding the end of the same brush as before. Direct the tip of the brush toward the outer corner of the eye at about a 45-degree angle. That is how you gonna tell where the tail of the brow is suppose to end,
now comes time to use some eyebrow pencils. What you gotta do now is to lightly fill the brow in sparse spots with a blonde eyebrow pencil. Why blonde? Well because it will be more subtle than a regular brown eyebrow pencil,
at this point you should use brow powder which will be helpful in filling in the eyebrows. With help of slant-tip brush you can apply the brow powder. The brow powder is supposed to be one shade lighter than the hair,
golden blonde hue is the best match for light blondes, so if you have light hair color you know what to do now,
now is the time for the last step. In this step you should clean the edges above as well as below the brow. You can do that with help of colour correcting cover-up and a concealer brush.
Blonde eyebrows tips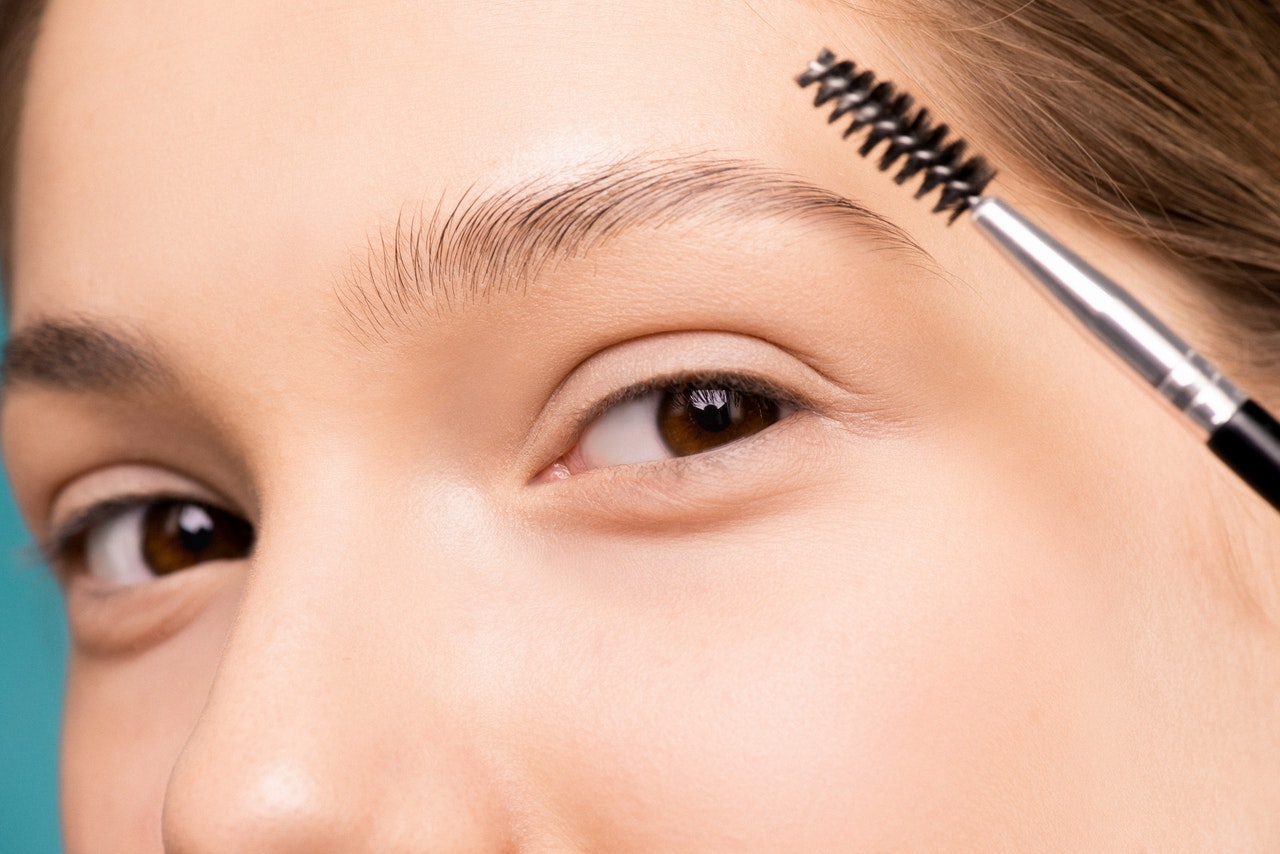 If you are a person with blonde eyebrows you will be able to find here some tips which can make you feel better with your look! Keep reading to find those tips:
Are you warm golden blonde hair? If so you should look for shades which goes under name of light or blonde. It is doesn't matter what kind of eyebrow makeup you will choose just remember the name of them! If you are a person with cooler ashy blonde hair colour, you should look for make up shades which are going to be called blonde or taupe. For people with hair colour of dirty blonde or darker shade of blonde they should look for shades called taupe or lighter shade of brown.
Natural redheads facts
If you are naural redhead you know that having naturally red brows just isn't true. If your hair is copper red, you can use a slight hint of darker copper in the brows or even a dark blonde tint which can soften the look of yours!
Tips
bleached brows may look harsh when person's hair are in platinum color. That's why those people should be go with darker brown shade,
if you want to be permanently wearing a eyebrow makeup you can go for pernament makeup of your brows,
people with natural blonde with fair brows can use slightly darker shade of eyebrow pencil,
remember to pick a base color which is no more than just one shade darker than your natural hair color,
use blonde pencil which is very light blonde colour when you have fair or silvery blonde hair,
people who are medium blondes should go with a light and taupe brown, but dark blondes should go for eutral brown,
if you have light brown hair you can be darkening brows of yours, this will for sure make your brow hairs match the hair,
Conclusion
We should remember that bold brows and the light blonde hair is such a modern combination and is a great dramatic strecture to the face of its owner. Now you know what you can do to have perfect looking, defined brows. Give yourself natural appearance with help of our tips!