Are you looking for some great design ideas for your nails? What kind of color is your favourite one? Is it white? Or maybe green or yellow? You prefer glitter nails or matte ones? You like more matte colors or nude color? Well doesn't matter you will for sure find some kind of inspiration for yourself.

Coffin nails – how are they shaped?
Coffin nails are sharply shaped with square-like tips. They are pretty similar to ballerina nails, the only difference is, ballerina nails are a little bit more roundly shaped. They look amazing on long nails, but what makes them special is that short coffin nails also look stunning, which is not common with many other nail shapes. Coffin shape is universal to wear- you can express your personality with so many different coffin nail designs both at work in the office and any special event. But how and were you should have them done?
Where to have your ballerina nails done?
Beautician is the best option when it comes to your coffin nail designs.
You can have your coffin nails done by beutician. In that case you don't have to care about which coat of nail polish is being painted. All you need to do is to get some inspiration. Many people search for idea on free pinterest app. You have to choose one out of many nail shapes, desired length, whether you want nail art or maybe more classic nail designs. The only thing that can hold you back is your creativity and price. Howether choosing beautician pays off- all in all she is beauty expert! She knows how to make your acrylic nails trendy, stylish and cute.
Coffin nail designs ideas
If you want to paint your coffin nails, but you do not know what you want your coffin nail looks like here goes some of the inspiration ideas for you. Keep reading to find our own inspiration:
Nude elegant pink with a bit of glitter
This is a perfect match for someone who wants some classic and elegant look. A little bit of glitter this will be looking glamorous.
Light pink nails
If you are the lover of pink color but you think that pink is not that creative anymore and it is boring for you, try adding some gold glitter. This till bring some sophisticated look.
Red and white colors
If there is winter time comming soon you can think a bit of red and white. You can of course wear those colors all year round however they are best worn durning christams time.
Glossy pink acrylic nails
Those glossy pink coffin nails are just the cutest nails ideas which girls loves very much. Are you a girl who loves pink? If so, go have fun and make your nails pink.
Green matte coffin shape
When spring and summer times comes all of us think that it is the sign to paint your nails in bright colors. If you want to style your nails ideal for the summer time this is a very good option.
Perfect nails for the wedding day
If there is a wedding day comming and you are thinking of perfect nails for you, what would you say about nude color with a bit of glitter fill.
Ombre design is another idea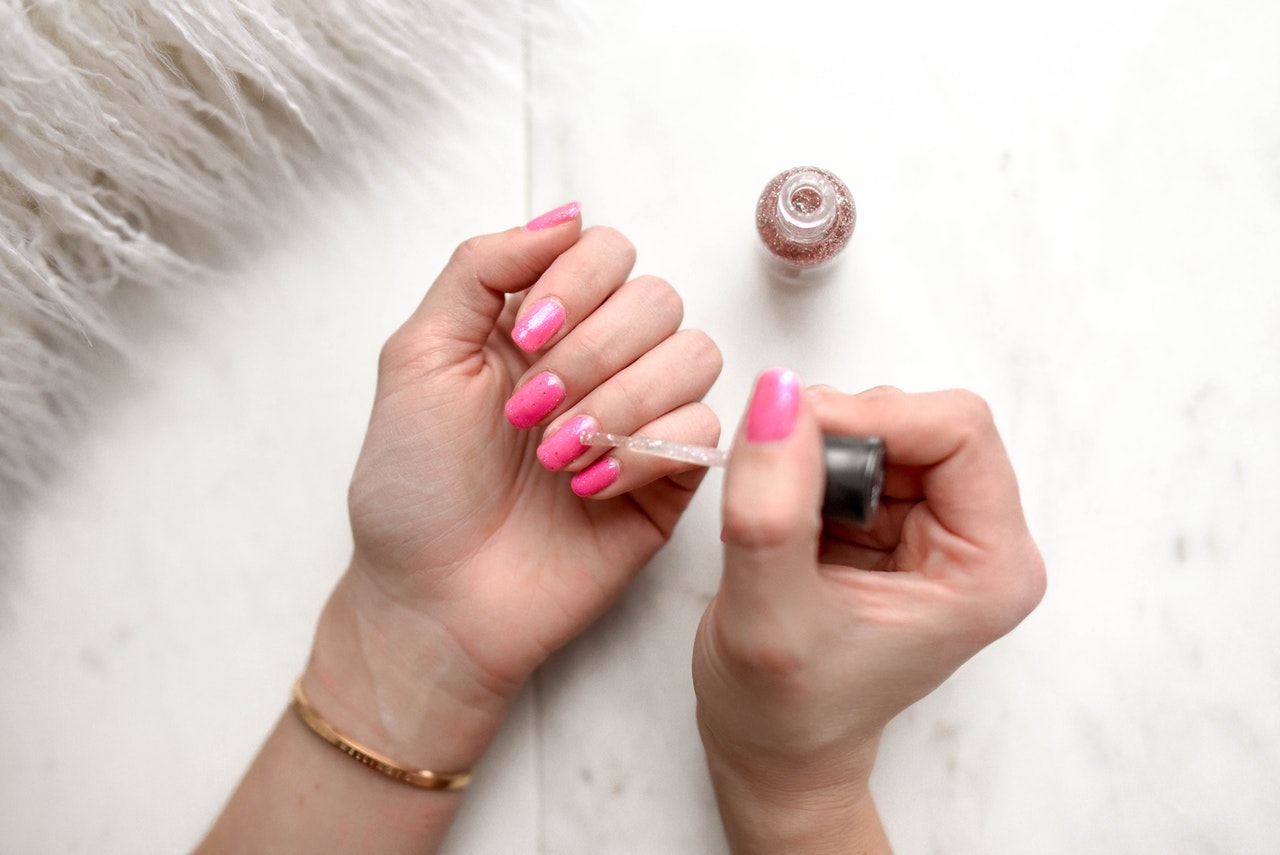 Ombre nail style is something that can bring glam to your look. This in fact is amazing looking type of nail paintings. Thanks to ombre style you can make your nails be a mix of few matching colors.
Silver and black mix
This in fact is something very dramatic but still simple look. This is a simple look that is why it will be ideal for begginers. To those who wants to add a little of shine you can also put on your nails rhinestones.
Red coffin nails
Red color is loved by many women. In fact this nail type is the most common and popular choice among people.
Valentine acrylic nails
If you are looking for nails for Valentines Day you should go for hearts painted on tip of your nail (go to a beautician who knows how to draw). This will give you the lovely look which is desired at this day.
Bold long acrylic nails
Classic bold nude nails will look amazing when it comes to long nails. If you are a person who is looking for a timeless look this one is just the best option for you. Have fun at beauty salon!
Black and gold nails
If you want your nails to perfectly match your gold accessories you should go for black nails with a bit of gold sparklings. This will for sure fill your look and make you look complete.
Coffin nails with french tips
This is an idea for french tips lovers. Having your nails shaped in a coffin doesn't stop you from making the look that you love. What would you say about stylish matte nude and a beautiful french touch?
Conclusion
As you could notice there are many possible designes of coffin nails. We hope that with our help you found something just right for you. And yes it is doesn't matter if you have short coffin nails or long ones.