Are you dealing with excessively voluminous, curly unruly hair and frizzy hair? If so you need to find out about two hair smoothing treatments which are brazilian blowout treatment and kreatin treatment. Each of those treatments aim in giving your hair shiny and smoother look.
Take a look at those treatments and choose the most appropriate treatment for yourself!

Keratin treatment – what is it?
Here you will be able to find out what the keratin treatment is. Keratin treatment comes from Brazil.
Keratin treatment is in fact smoothing treatment which eliminate frizz and flyaways. Process of this smoothing treatment involves injecting keratin protein into the follicles. This makes hair feel relaxed, shiny and smooth. Keratin treatment makes hair healthier. How is it happening? Well it happens because it is improving the hair lipid content which is also called natural oil.
Those keratin treatments make hair extra easy to control and also manageable for even up to five months.
Brazilian blowout treatment
Let's start with interesting fact which is this that brazilian blowout is a registered brand name and not a style!
Keratin vs brazilian blowout – difference between brazilian blowout and keratin
Brazilian blowout smoothing treatment seals the hair cuticle with essential amino acids to improve your hair condition, isn't that great? The best thing about brazilian blowout is hair smoothing treatment which is customizable. What does it mean? Well it means that person can choose to what extent he/she want her/his hair treated for different looks. For example you are able to keep your natural curls. If you decide on keeping the curls you will have your hair treated for a shorter time than if you decided on almost pin-straight hair.
Brazilian blowout lasts, however it all depends on the hair type. Brazilian blowouts are perfect for each hair types even color treated hair.
Remember that this kind of treatment performs well with fine to medium texture, and some slight waves or curls. So if you want to keep your hair curly this treatment is just perfect for you.
Smoothing treatments – what brazilian blowout and keratin treatments have in common?
Here you will be able to find common aspects in those two treatments. If you are intrested in the comparison of these treatments, keep reading:
brazilian blowout and keratin treatment aim in eliminating frizz as well as smoothing hair strands,
after both of those treatments you will have to wash hair of yours less frequently. This will help to prevent washing out the done treatments,
both of those treatments starts with the preparation of the hair by shampooning them with use of clarifying shampoo which is later followed by a towel dry,
brazilian blowout nor keratin treatment don't make the hair bone straight like for example hair relaxers or the Japanese straightening treatments do,
both of those treatments enhance shine and cut down very much the time of blow drying and styling,
brazilian treatments as well as keratin treatment takes up to two hours and no more,
both of these smoothing treatments are doing great in fighting the humidity, creating reflective shine, and also improve hair manageability,
both of these treatments are safe.
Brazilian blowout vs keratin treatment – differances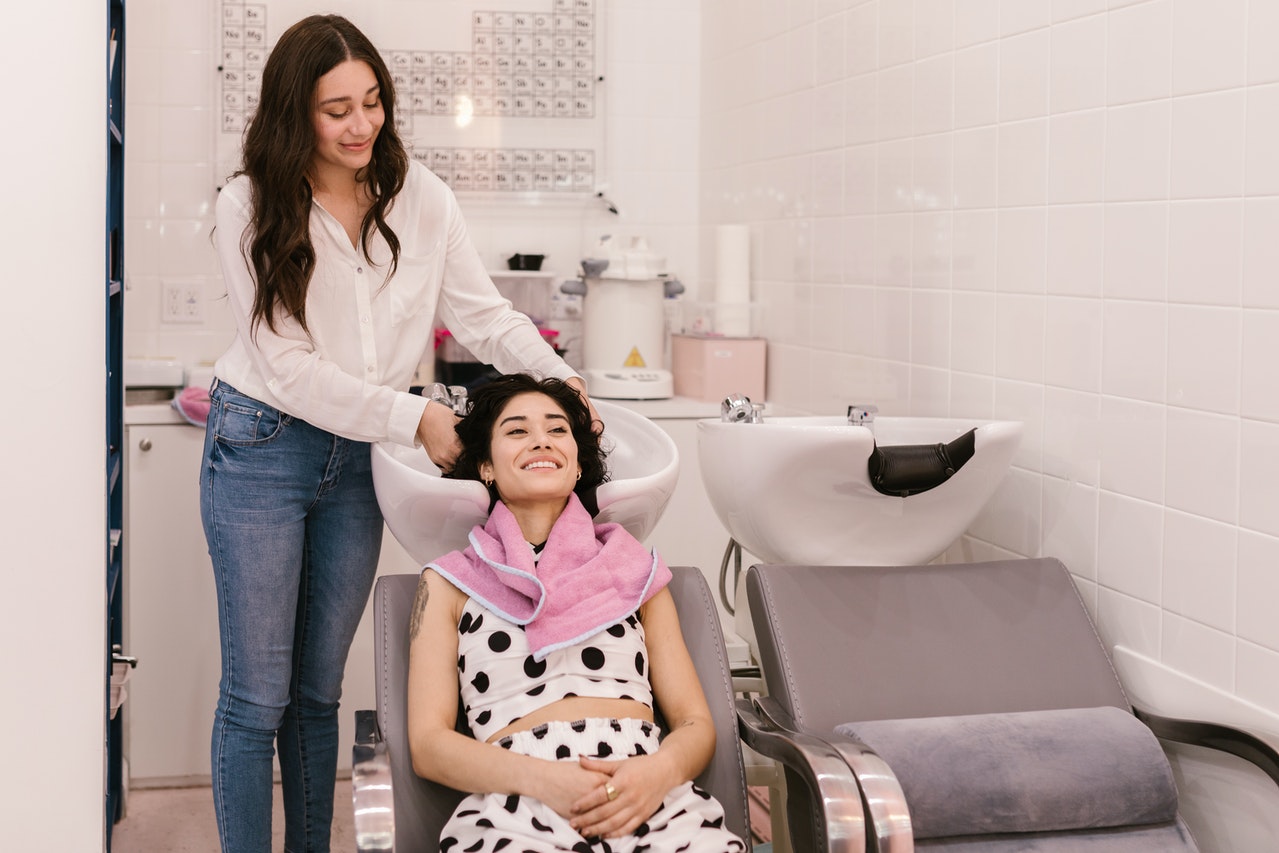 In fact they have more in common than not, the significant difference is the ingredients which are used, and of course their name. There are also differances as:
brazilian blowout lasts for shorter period of time,
durning keratin treatment hair dresser uses flat iron,
brazilian blowout can't make the hair healthier but keratin treatment can,
brazilian blowouts uses artificial chemicals while durning keratin treatment natural chemicals are used.
Results
Let's talk about resluts after both of the treatments.
When we will take a look at results after a keratin treatment hair will have way straighter appearance and also reduced the hair volume so if the excess volume is bothering you it is the best option for you. It will also make hair frizz free for about 3 months.
Now let's take a look at results from brazilian blowout treatment. After this procedure you will also get rid of frizzy hair, however the hair itself will be less straight and sleek so you might be able to keep your natural curls, let me explain how it will look. When it comes to wavy hair they will be straighter with more of a natural wave and body. When it comes to curly hair they will retain its natural curls, however in fact those curls will be softer and frizz free.
Facts
as we know already that nor keratin treatment or brazilian blowout are permanent. However the japanese straightening treatment is known as permanently alter. So if you want to reach the pernament look you could consider this type of treatment,
brazilian blowout treatments doesn't require restrictions like refrain from washing and styling the hair for the first three days, but keratin treatment does,
keratin treatment is very much recommended to those who has thick hair, however it is not that good for those who have finr, thin or straight hair,
keratin molecules are way smaller than the amino alkanoic acid protein that is why keratin can go deeper into the hair strands,
basilian blowout is very much suitable for transitioning hair textures but only if a keratin treatment, relaxers, or Japanese straightening treatment has been applied previously,
after the brazilian blowout treatment styling the hair with straightening irons or blow drying them straight will be easier and produce better results than before.
Conclusion
We hope that thanks to our article you are able to choose the one most suitable treatment for you and your hair.  Give yourself a shiny hair and get rid of everyday styling with help of one from those hair procedures.